Clatterbang
is a spell that creates a sonic wave that can instantly knock out the opponent. The spell user's hands are placed on either side of the target's head, and a wave with a violet aura is emitted from the hands.
History
Clatterbang was used by Lok Lambert to render one of Wilder's Suits unconscious. S2E27
This spell also was used by Dante Vale. on Wilder whilst fighting in the Tomb of Hernán Cortés. S2E42
A green version of Clatterbang was used by Diaz and his Suits to attack a house. HC#16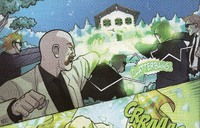 Community content is available under
CC-BY-SA
unless otherwise noted.