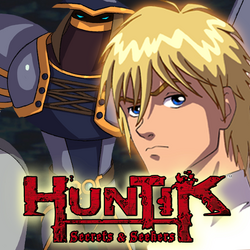 Huntik: Titan Defence is an app game developed by Celestial Digital Entertainment Ltd. and published by Rainbow Media Pte Ltd. It was released on September 26, 2010. The game features a six-chapter story mode throughout which the player must defend Eathon Lambert's journal from the advancing Titans of the Organization. There is also a challenge mode which enables the player to complete different achievements, and help them unlock new and more powerful Titans, and earn badges.
Chapters
Titans
Each Seeker has has up to three Titans in their possession, unlocked by completing parts of the game. Prior to each battle, the player must select one Titan for each Seeker to use.
On the opposing side, numerous Redcap and Mindrone Titans are used and in addition, the powerful Kreutalk and Breaker. In later levels, Jokoul, Gar-Ghoul and Megataur appear as even greater threats.
Gallery
Community content is available under
CC-BY-SA
unless otherwise noted.