Panini is an Italian toy company that oversaw the production of merchandise for Season 1 of Huntik: Secrets & Seekers in Italy and Europe in 2009 and 2010. Its most notable products include the Titan Miniatures collection and the Huntik sticker album, both of which featured exclusive items in Huntik Magazine.
Miniatures
The Titan miniature figures were originally released in Italy in individual sachets and distributed at Italian newsagents. Each Titan or Amulet came with a corresponding card as part of a game that collectors could play. The first wave was released in February 2009 and consisted of Draco-Titans and Krono-Titans. A second wave, consisting of Litho-Titans and Yama-Titans, was released in September 2009. In 2010, the figures were released in the UK in packs of 3 with a fourth mystery figure.
Wave 1
Wave 2
Sticker Album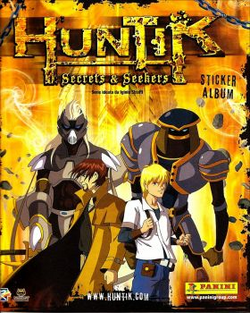 In 2009, Panini released the Huntik Sticker Album, a collection of 216 stickers that could be stuck inside a large book containing details on the different Seekers and Titans.