TCG Profile: Paola - Sanctuary Keeper
Card Stats
Deck
Good
Attack
2
Defense
2
Hero Type
Minor Hero
Type
Seeker
Set Information
Rarity
Common
Set ID
LGS-038
Card Text
Power
Mystic Aura - Friendly heroes in my zone can't be targeted by your opponent or enemy heroes.
Flavor Text
Rest, Seekers. The Organization cannot follow you here.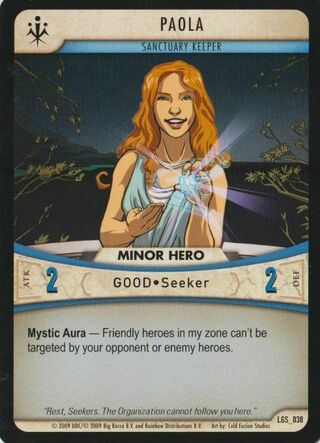 Trivia
Paola is depicted with the Amulet of a Madea Titan despite one such Titan being declared as being too wild to bond with a Seeker in episode 11 - "The Beautiful Trap."
Community content is available under
CC-BY-SA
unless otherwise noted.